We Had A Christmas Party And we had Fun!!!!
First we took some photos before we opened the gifts!! And that was NO FUN!
And then we took some when we opened the gifts and we are very good at THAT!!!
And That was much more fun!!!!
Here is Riga and Cornelia showing how clever they are!!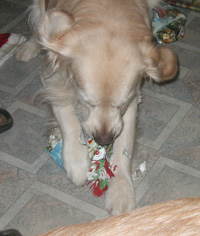 Rasse found a new toy that he liked!!!
Here Hydra found the biggest gift filled with smoked bones!!!!
She opened it and then she was kind to share them with the others!!!
Merry Christmas to you all!!!