Meggies och Nisses valpar!!!/Puppies
1/2 -2004
De är nu sju veckor gamla/They are now seven weeks old.
29/1-2004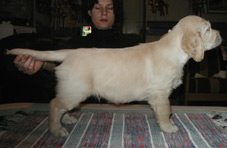 Nya kort tagna imellan den 16-27 Januari/New photos taken between 16-27 O Januari.
Nya kort tagna den 14 Januari/New photos taken on the 14 Of Januari
and the puppies are nearly five weeks old.
We get very tired after playing around!!!!
Nya kort tagna den 4 -5/1 2004/ new photos taken on the 4 -5 of Januari
and the puppies are now little over three weeks old.
Idag har vi fått större ännu större valplåda samt massa nya leksaker inte illa när man är tre veckor gammal och kul är det!!!!
Korten tagna den 22/12 och de är tio dagar gamla/ photos taken on the 22 of
december and they are ten days old.
Meggie är en mycket stolt över sina småttingar, och det är vi också!!/
Meggie is a very proud of her little ones!!And so are we!!!